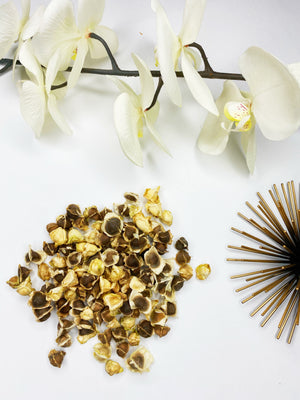 SeaMoss Blends
Moringa Seeds
Sale price Price $10.00 Regular price Unit price / per
The Moringa tree has been popularly called as "The Miracle Tree" in Asia, Africa and Caribbean Countries for centuries. It is rich in nutrients like vitamin B6, beta carotene, vitamin C, magnesium, and protein. 
Our Organic Seeds are handpicked, washed, and sun dried naturally. 
How to Use: 
You can eat the seeds by removing the outer dark-brown shell to unveil the seed. Recommended by experts that just a few (3-5) seeds a day are enough to provide us with utmost benefits. 
Remember that moderation is key. When eaten in a large quantity, it can cause an upset stomach. 
Benefits
Some of the benefits include:
Aids lowering blood pressure

Might act as a sleep aid

Boosts energy