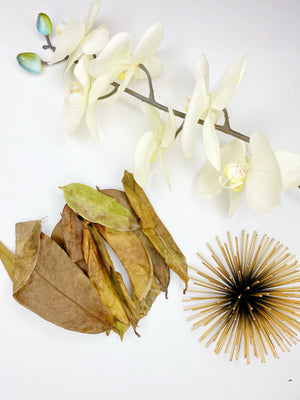 SeaMoss Blends
Organic Dried Soursop Leaves
Sale price Price $12.00 Regular price Unit price / per
Our Caribbean Soursop Leaves are hand-picked and air-dried in the shade to preserve all bio-nutrients and compounds. 
Contains: Antioxidants, Calcium, Phosphorus, Iron, Potassium, Fiber and Magnesium 
How to Prepare: 
Bring 1 cup of water to boil

 

Add 3 Soursop leaves to pot and cover

 

Steep leaves for 30 minutes

Strain, drink and enjoy!

 
Benefits
Some of the benefits include:

Healthy Skin and Hair

Treating Cancer

& Ulcers

Treating Blood Disorders

 

Treating Hypertension

& Diabetes

Treat

Inflammation, Anemia & Insomnia 

Boosting Immunity &

Fighting Infection

Cures Asthma and Improves Respiratory Health

 
Organic Dried Soursop Leaves
I actually really enjoy the taste! I got it to help with my asthma.